Interview with Motus' Bryan Goelz – Wearable Technologies
I was speaking with a local high school & travel ball coach recently and he exposed me to an interesting wearable technology created by Motus.  The sleeve they've created resembles the one arm neoprene sleeve you see displayed at any travel ball tournament, however, they've taken theirs one step further by adding a slot to insert a device which tracks arm speed and location metrics used for pitching as well as hitting.
Upon learning about the product from their website and various how to videos, I reached out to their CEO & Co-Founder, Joe Nolan, who was gracious enough to connect me with their Business Development Director, Bryan Goelz.  Bryan played several years in the Los Angeles Dodges and Boston Red Sox minor league systems and is leveraging his past experiences to bring value to ball players across the country as it pertains to feedback around pitching and hitting mechanics.  Recently, Motus, has been approved to be one of two wearable technologies allowed in Major League Baseball (click here for the US News article)  This upcoming season will be their first with MLB and as we've seen over the last year or so, Big Data is everywhere.  Fans want to know as much about their favorite players as possible, whether it's their exit velocity on a throw to the plate or possibly the launch angle on a bomb they hit to win the game.  What's great is you don't have to be in the big leagues to gain valuable insight to help ball players, both young and old, to receive critical feedback to help their throwing and hitting mechanics and hopefully help to keep them of the disable list.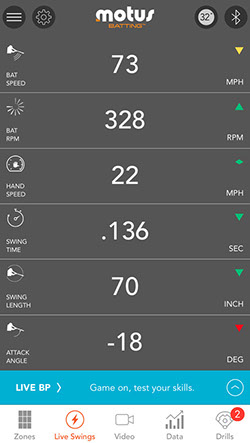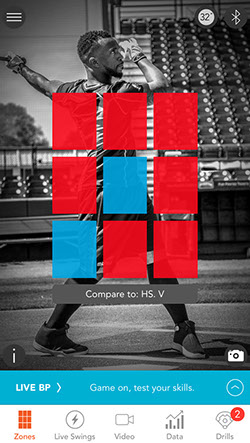 Bryan indicated there are several NCAA institutions that leverage the Motus product and the response they've received, both on and off the field, has been tremendous.  How can Motus have an impact at the collegiate level off the field?  Those programs that use this product are sending the message to potential recruits that they are using any tool available to help them perform at their peak as well as help to prevent injury through the use of technology.  This is a differentiator, especially when recruiting has become so competitive as programs are looking for any way possible to gain an advantage.
What impressed me the most about this product is its ability to track not only the forces generated against the arm which can be stress indicators, but also provide feedback for hitting.  There are several hitting tools on the market today, however, there is only one that I'm aware of that is available for pitching/throwing.  For approximately the same amount of money, you gain the ability to have feedback for two areas of your game instead of just one.  There is definitely a lot of bang for the buck with the Motus product.
Baseball is not the only sport with which Motus works.  Football quarterbacks are another area in which Motus can be used to apply crucial feedback around helping athletes improve their throwing mechanics.
I'm looking forward to acquiring the Motus in the future and doing a full Travel Ball Dad review.  When that happens, I'll be sure to share my findings.  If you already have a Motus, please let me know what you think and I'll share with our followers.  The future is exciting with what information we'll have available.  With organizations like Motus pushing the envelope, the next several years are certain to be innovative and exciting.