Suggested Gear to get involved in Bass Fishing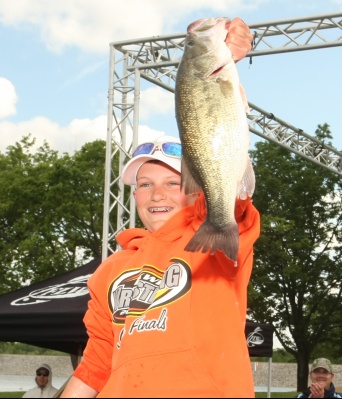 There is so much fishing gear on the market. Getting rigged up to get into competitive Bass Fishing can be intimidating and expensive. Here are some suggestions to get you and your son/daughter headed in the right direction.
Rods/Reels
Bass anglers will usually have several different rods/reels rigged up and ready to go on the water. This is a bit like a golfer having different clubs for different situations. There are many different brands and prices.
The main two types of rods/reels that are used by most competitive bass fishermen are "spinning" and "baitcaster". Some kinds of techniques are better on one or the other, while some can be done on either one. I would recommend having about 4 or 5 good combos that are kept in excellent working order. The breakdown would be something like this:
Rod 1: Med/Heavy baitcasting combo with a rod that is about 7' long. Faster gear ratio reel of at least 7.1:1.  About 17 pound test Fluorocarbon line. Used for Jigs, Texas Rigs, Spinnerbaits, Swimbaits, etc.
Rod 2: Med/Heavy baitcasting combo with a 6'6" to 7'2" rod. Fast gear ratio reel at least 7.1:1 with about 12 pound test Fluorocarbon line. Same applications as below, but in areas with less heavy cover and clearer water.
Rod 3: Med action baitcasting combo with a 6'6" to 7'4" rod. Med gear ratio reel (about 6.4:1) spooled up with 10 or 12 pound test Fluoro or Mono. This rod would be used for various crankbaits, lighter swimbaits, topwater plugs, or other similar moving baits with treble hooks, or light wire single hooks.
Rod 4: Med action spinning combo with a 6'6" to 7'2" rod. Appropriate sized reel to balance the combo spooled with 4 to 10 pound flouro or braid/fluoro. Use this for very small jigs, Ned rigs, Shaky heads, drop shots, inline spinners, small crankbaits, or small topwater baits.
Rod 5: Med or Med/Light spinning combo. Same as about with rod length, reel, line, and baits. It is nice to have a second spinning combo to have another technique rigged up and ready to go alongside the first one.
These five rod types and actions will give you the flexibility to rig up a variety of baits/techniques to cover the water depth and types of cover you are likely to encounter at various lakes and different seasons. Castaway Rods has many good options in several price points to fill these needs.
Spinning gear applications – lighter baits and lines – examples might include; Ned rigs, small crankbaits (shad raps, small squarebills, small stickbaits), dropshot rigs, shaky head rigs, small jigs, and inline spinnerbaits.
A good bass fishing spinning rod would be a medium action in a 7 foot length. For the money (about $40) I like the Bass Pro shop Graphite Series
As far as reels, the "Pflueger" brand does a great job. Both the Trion and President reels will be more than adequate and they won't break the bank.
Here is that combo at Bass Pro.
Baitcast combos are more expensive and more difficult to use at first. However, in the long run, they do offer some advantages, and for some rigs and baits they are much better. Some usual applications would include; flipping/pitching heavier jigs or Texas rigs, bigger crankbaits, spinnerbaits, Carolina rigs, and Alabama rigs. These rigs would generally use heavier line. There are many good brands.
One of the combos I recommend using is the Bass Pro "pro qualifier" reel and carbonlite rod A good all-around size and weight is 7 foot, med-heavy action. That can handle most techniques. The high speed 7.1:1 reel does wonderfully on this rod.
Line
There are several different kinds of line on the market. They each have advantages and disadvantages. The main three kinds are Monofilament, Fluorocarbon, and Braid.
Mono is typically used for topwater and some flipping applications. It is less expensive and easy to cast and tie, 6 to 20 pound test depending on the technique. Most often you'll use about 10 lb test for topwater baits with treble hooks.
Fluorocarbon is supposed to be less visible under water and has very little stretch. It is also quite expensive and stiff, which makes it a little harder to cast and keep from getting kinked up. It is often used as leader material for braid. This can be used for most applications, especially techniques that need a good "feel" of the bait (like jigs, Texas rigged plastics, spinnerbaits, crankbaits, etc.). The lack of stretch really helps with detection of softer bites and gives a better hookset with less force. The "P-line Floroclear" is easier to cast and has a small diameter. It also seems to have solid knot strength and abrasion resistance compared to some other lines.
Braid is most visible, but also very strong and resistant to abrasion. It is also expensive. Using it to throw an A-rig (50 pound test), is a good application, however, you can throw an A-Rig on 20lb Fluoro, it depends on your preference. Many people like to throw lighter (10 to 20lb test) braid on their spinning rods. They connect it to a 2' to 8' section of fluoro leader with a special knot (several different knots will do a good job of this, check youtube for some ideas), or a swivel.
On spinning rods, using 4 to 10 pound test is a good rule of thumb. Baitcasters tend to a heavier line, such as 10 to 20 lb (heavier lines used for flipping to heavy cover and controlling heavier baits with thicker hooks).
Baits/Lures
Soft Plastics – My main favorite four kinds of soft plastics are; worms, creature baits, crawbaits, and swimbaits/grubs. My favorite brands are Z-Man, YUM, Zoom, and Berkley. These baits are usually rigged on a size 2/0, 3/0, or 4/0 wide gap worm hook (weightless, Texas Rig, Carolina Rig, or shaky head). If I had to pick one color for everything except swimbaits it would be "green pumpkin". Black/Blue or Purple can be good also in low light or dirty water, especially for worms.  Swimbaits/grubs are usually best in a color that resembles a shad (white, silver, dark back). They can be rigged on a jighead, weighted belly hook, or A-rig.
Jigs – My favorite jig is a Bitsy Bug by Strike King. I also really like D&L Jigs. I almost always use 1/16 ounce, but sometimes 1/8 ounce with the Bitsy Bug.  These are small and compact jigs that work well in pressured lakes. There is a green/brown color that looks very natural in most fairly clear water conditions. Black/blue is good for some times of year and dirtier water. With the D&L Jig I like a color called "Cumberland Craw". These jigs I use between ¼ and ½ ounce. 3/8 is a great size and profile. ½ works well in depths over 20 feet.
Crankbaits – My favorite colder water crankbait is a ShadRap. Size 5, 6, or 7. Good colors include Helsinki Shad, Silver/Black, and Dark Brown Crawdad. Other good baits include Rapala DT series, Strike King pro model series, and others.
Spinnerbaits/chatterbait – white or white/chartreuse are good choices. WarEagle makes a quality product as do a few other brands.
Topwater – Zara Puppy, buzzbait, or others
There are lots of baits on the market, but these are the basic useful ones to me. A couple of good soft plastics, jigs, and ShadRaps will go far in most situations in the various Kentucky waterways.
I hope this helps. Lots of fish can be caught on basic gear. Beyond that, there are many ways of getting more elaborate, but it can get excessive quickly