A Community Rallies to Keep a Loved One Close to Their Heart
I can't speak to what it must feel like to lose a child.  For parents that have been through such a terrible misfortune, I am certain there is no worse pain in the world.  Unfortunately, parents around the globe are forced to deal with  this far too often.  What does one do to move forward?  Do you remove yourself from the world?  Do you surround yourself with loved ones?  I'm sure the answers vary and at times it may feel like there is no answer.  This past weekend, I had the honor of meeting a family and community that has an answer to losing a loved one.. play the game she so dearly loved.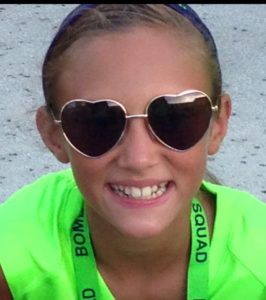 Kate Bruggenschmidt, played softball for a travel softball team, The Bomb Squad, from Boonville, IN, which is located just outside of Evansville, IN.  Last summer, Kate was doing what she normally did with friends, hanging out, doing what girls her age do and unfortunately, there was an accident on an ATV that was catastrophic.  Kate was a vibrant young lady whose passing shocked a community.
What could be done to remember Kate?  In speaking with those who live in the community and knew Kate personally, it was shared that the community really took on an initiative to come up with something that would honor Kate and keep her memory alive.  The result was Play for Kate in which the community would host a softball tournament and proceeds would go towards projects in the community as well as scholarships for young men and women.
In 2015, the first Play for Kate softball tournament took place and was supported greatly from teams throughout the region.  The money raised through the silent auctions as well as revenue generated from the event helped to create a beautiful playground (seen below) as well as funds for scholarship opportunities.
In between games of this year's event, I spoke a bit with friends of Kate as well as her Mom, Ashlee Bruggenschmidt, who is an administrator at a local school.  Having this tournament not only allows for a platform to educate about ATV safety (Off Road-ED was on site) but it also allows girls just like Kate to run around, have a great time and remember Kate's joyous spirit while raising money to create opportunities for others to enjoy life.  Ashlee shared that proceeds from this year's event would be going towards the creation of a Buddy Ball field to help children with disabilities have a place to call their own and play the wonderful game of baseball & softball.  I can only imagine the amount of joy that will be brought to every person that swings a bat, runs the bases or throws a ball.  I do know for certain that Kate will be watching down with a smile on her face enjoying the fact that she helped bring joy to others.
If you are a part of a girls softball team, I highly encourage you to get involved for next year's tournament.  Not only is it for a great cause, but the facilities, people and talent were second to none.  The tournament was a sanctioned USSSA Softball event with multiple divisions, great vendors and a tremendous host.  You can find contact information on their site, www.playforkate.com .