The Last Turn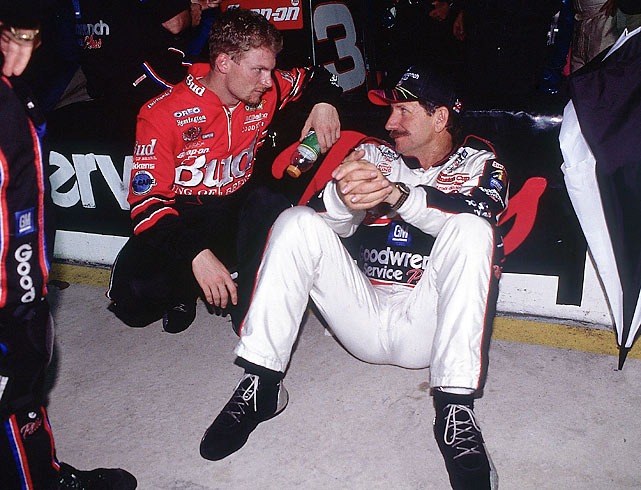 Losing Loved Ones
Dealing with the loss of a loved one, especially a parent, is never easy. As a matter of fact, it stinks. I've been reminded of that recently with the passing of my father as well as listening to an interview with Dale Earnhart, Jr and Joe Rogan. Being a fan of the "3" car, I recall the day in which Daytona claimed the life of Dale Earnhardt and I recall vividly how the NASCAR community felt like a ship lost at sea the next several weeks.
Upon listening to Dale, JR, speak about his father, I was surprised to learn Dale, Sr, rarely spoke about driving race cars with his son. From the outside looking in, when you see sports figures who are parents, one might assume the only thing they talk about is their respective sport, grooming them to one day take their place. I'm sure there are those whose relationships do revolve around a particular sport, however, just like everyday folks, there are those famous sports figures who might want to just be a mom and dad OR plan on sharing the secrets to their craft at a later date when the time is right. I believe this to be the case with Dale, Sr. Nobody knows when they will depart this world and Dale, Sr., who was on the last lap of the Daytona 500 had no idea he would lose his life that sunny day in February '01 and miss seeing a car he owned, driven by Michael Waltrip finish first and his son's car finish second.
I wonder if Dale, Sr., would do it differently if he were still alive? Would he tell Junior how to race the track at Martinsville or when not to go on the outside in Atlanta? Or, did he find solace knowing Junior worked on his own to figure out the little things that helped him be successful. As a dad, there's no greater pleasure than watching your kids work on their own to solve a problem. As a society, we've grown accustomed to helping too much at times and the value of education and learning the hard way is not experienced as often.
As parents, we want to give our kids every opportunity for success and supply them with the knowledge to make success possible. However, sometimes the best thing for success is a challenge. Let your kids struggle. They will ultimately be better because of it.