93, 89, 97…..Which technology do I Believe?
Using data to evaluate ballplayers isn't something new. Radar guns have been branded behind big league backstops since 1975 to gain a glimpse of greatness….or not. Furthermore, with the advancement of technology, more variables to quantify have come been identified whereas just ten years ago, nobody had heard of such craziness. Metrics like spin rate, exit velocity, and launch angle, have become part of the recruiting vernacular. Youth hitters today are working to provide more lift combined with maximum velocity yielding maximum distance and pitchers are focused on how hard they can throw with as much spin generated on each pitch.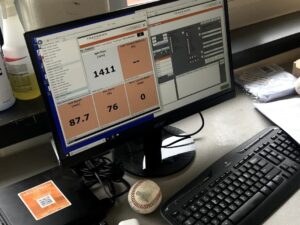 With various manufacturers touting their product is the best in capturing these metrics, how do we know which one is the most accurate? Rapsodo, Hit Trax, Pocket Radar, Blast & Trackman are some of the leaders in the industry when it comes to giving coaches insight into an athlete, however, when all manufacturers evaluate the same pitch or hit, do they all produce the same results? Do some products produce higher results on average than others? If so, do youth, college and professional ballplayers who share their data need to specify which machine created the results? In an era where college recruiters are restricted seeing athletes in action, they've no choice but to leverage other means to make sure they are in a position to fill the funnel of potential student-athletes for their team. Coaches are forced to rely on watching games via live stream or video clips from previous performances in conjunction with data gathered from various showcases. This has become the new normal and a large part of the evaluation process in 2020, like it or not. Recruiting has become a mix of data, video and on occasion, seeing a game with your own eyes.